NADCA-AIISA Partnership
NADCA and AIISA are proud partners in the inspection, cleaning and restoration industry.  With a specific focus on developing and improving indoor air quality for residential and commercial clients world wide, the two associations created a partnership in 2006.  Leadership of the groups came together to implement information, education, and membership sharing processes to the benefit of both organizations.  Since 2006, the partnership has flourished, with AIISA growing in membership and certifications each year.  NADCA provides AIISA members with both the Air Cleaning Systems Cleaning Specialist (ASCS) and Certified Ventilation Inspector (CVI) certifications, through testing in Italy, throughout Europe, and in other areas of the world.
Each year, AIISA and NADCA leaders meet at the NADCA Annual Meeting to discuss areas of focus and growth.  AIISA membership and strategic direction are consistently an area included in these conversations. As indoor air quality continues to grow in importance worldwide, AIISA and NADCA leadership discuss ways to broaden education and training opportunities for members. In addition, AIISA members work in tandem with Dr. Hernandez and NADCA members on the Italian Energy Study at the University of Pavia.
AIISA members are active in NADCA, participating in the International Committee, attending meetings and trainings, and sharing in projects. The primary components of our shared mission are the dissemination of knowledge through education and innovation, continuous improvement, and excellence/quality.  We share these intentional outcomes in both organizations mission and vision.
AIISA's mission has 3 areas of focus - we share them in both Italian and English: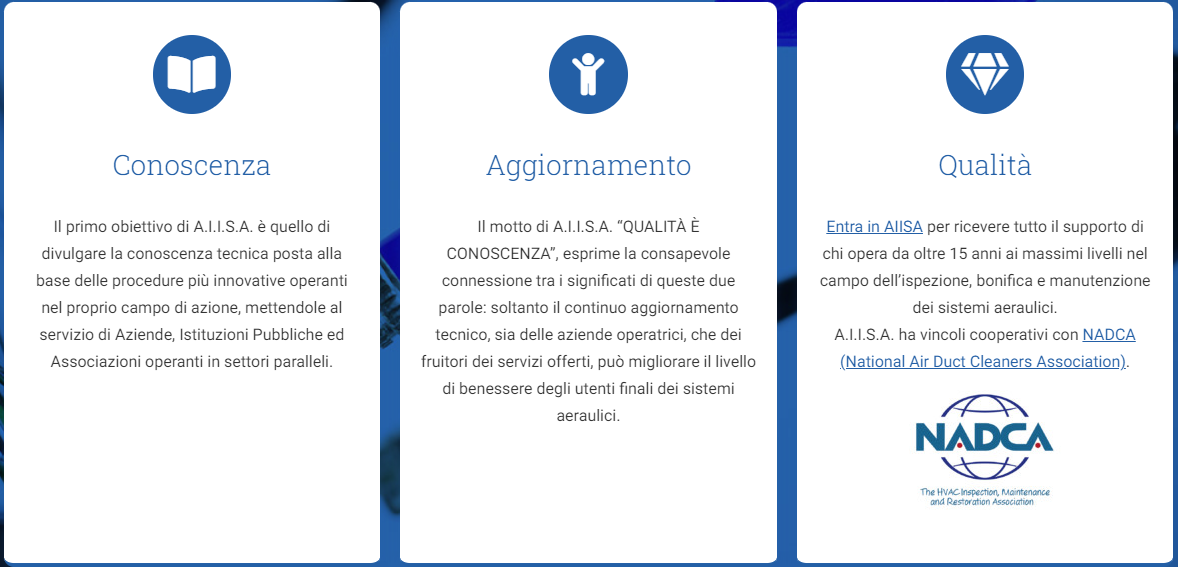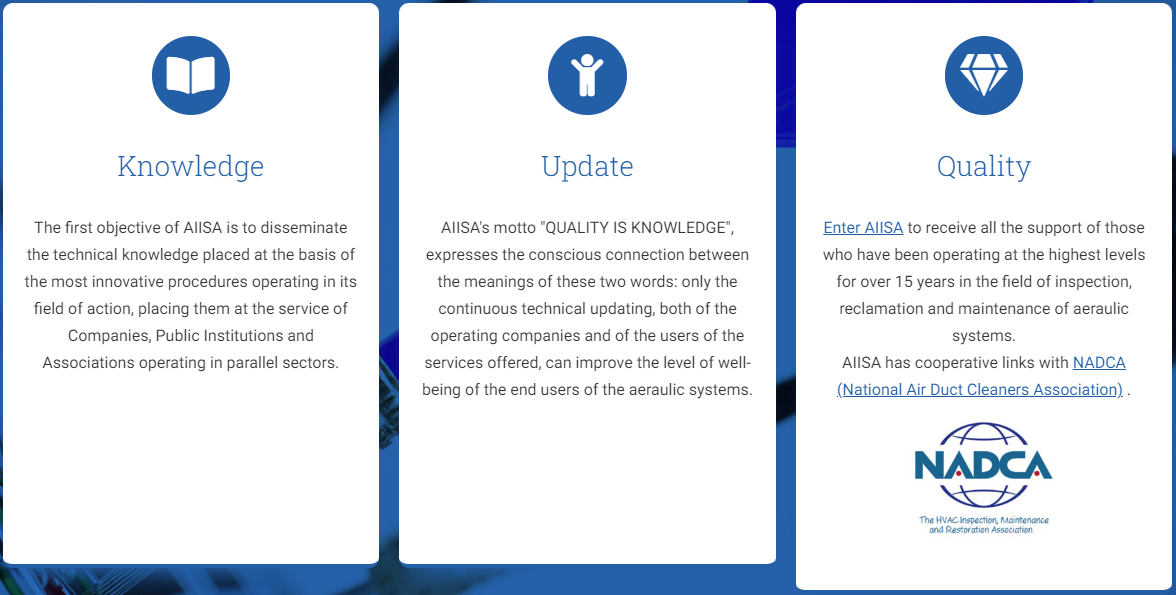 Click the image links below for AIISA member benefits a-a-glance shared in both English and Italian.
For more information about AIISA please visit the AIISA website at https://aiisa.eu/.
From the AIISA website - AIISA was founded in 2004 following the desire of the Founding Members , to provide adequate rules to raise the quality standard in the field of aeraulic remediation, accompanying the growth of a sector of economic activity, which at the time was still in its infancy. Animated by this will, the pioneers of AIISA had already established an important contact with the American NADCA association (National Air Duct Cleaning Association), source of a tested and articulated technical culture in the sector, which boasted a widespread presence overseas.