Thanks for Attending NADCA's 33rd Annual Meeting & Exposition
Posted

on

03/30/2022
NADCA's Annual Meeting & Exposition is always the place to be for certifications, networking, camaraderie, and the opportunity to gain valuable insights, tips, and ideas that are guaranteed to help grow air duct cleaning businesses across the globe.
Held at the spectacular Gaylord Rockies Resort & Convention Center just outside of Denver, this year's event wrapped up on March 22, and what an amazing event it was! 
For air systems cleaning specialists, mold remediators, HVAC inspectors — and really anyone interested in the comprehensive field of HVAC system cleaning — there's no better place to connect with leaders in the industry to exchange ideas for business growth and learn tips to pivot and adjust focus when needed. In fact, two whole years into a pandemic that seems to not be willing to let up, there is so much to reflect on — like where the industry has been, where it's going, and what it means for NADCA members and their businesses. How will the increased focus on indoor air quality affect operations? What about the bottom line? Those are just a few of the questions we set out to find answers to with this year's event. 
NADCA's events, both the Annual Meeting & Exposition, as well as our Fall Technical Conference, always offer the most convenient way to get certified, with a full day dedicated to the pre-conference training courses for Air Systems Cleaning Specialist (ASCS) and Certified Ventilation Inspector (CVI) certifications, and the opportunity to sit for the ASCS or CVI exam right on-site the following day. This year was no different, with a sold out ASCS pre-conference training course and exam! 
The full event officially kicked off Sunday evening with a welcome reception in the exhibit hall. The first full day of conference sessions started bright and early on Monday, March 21 with our 'Rockstar Recruiting for a New Generation' keynote address, presented by business owner and entrepreneur, Susan Frew. 
Next up, we got down to business with our General Business Meeting. It's there that NADCA introduced Charlie Cochrane, ASCS, CVI, as our newest board member. Charlie has been in the industry for 30 years, and is president of Cochrane Ventilation, Inc., a commercial ventilation cleaning and indoor air quality firm founded in 1950. He previously served on the NADCA Board of Directors and was elected as president in 1996. In addition, he chaired and served on the Standards, Certification, Education, and International Committees. He's also actively involved in reviewing and evaluating methods of air duct cleaning with the Environmental Protection Agency (EPA) and Housing and Urban Development (HUD).
Welcome, Charlie!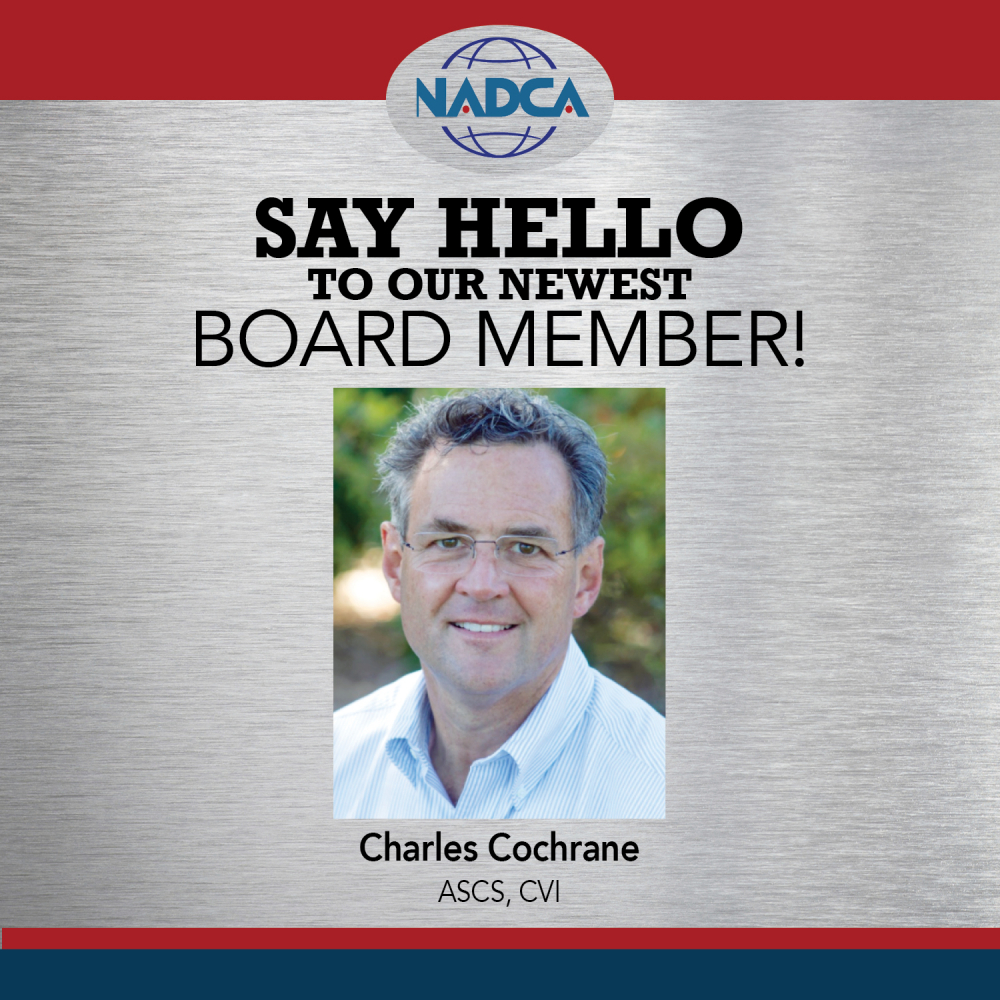 We also recognized our 2021 Safety Award winners during the General Business Meeting. These are all companies that showed commitment to employee, customer, and community safety throughout 2021. See them here. 
And finally, we introduced our 2020 and 2021 Hall of Fame inductees:
Raffaele Caruso (2020)
Rick MacDonald (2020)
Michael Vinick (2021)
Mike White (2021) 
We couldn't be more excited about our newest Hall of Fame inductees!
Our educational sessions then kicked off, with topics including 'Financial Implications of Your Safety Program' (CEC session), 'Understanding Xactimate & How to Increase Your Bottom Line,' and a panel discussion about 'Tapping into the Commercial Market.' To round out the day's sessions, one of our most popular speakers, Dr. Mark Hernandez, present a CEC session on 'Indoor Transmission of Airborne and Surfaceborne Diseases.'
Monday evening, we hosted our always-popular Member Party to celebrate our members and honor our Hall of Fame inductees. The event took place at Mile High Station and featured a Casino Royale theme. 
The event wrapped with a full day of educational sessions on Tuesday, including 'Air Duct Cleaning after Fire Restoration' (CEC session), 'Understanding Your Numbers and the Cost of Doing Business,' 'Scaling Up: Creating Growth Opportunities for Your Business,' a panel discussion on 'Creating a Culture of Excellent Customer Service,' and 'Quantifying Coil Cleaning' (CEC session).
We are humbled by record-breaking attendance and the energy all our guests, presenters, exhibitors, and sponsors brought to the event. NADCA's 33rd Annual Meeting and Exposition was truly phenomenal, and we are so incredibly appreciative. Thank you to everyone who joined us in Denver!
​Click Here to View Photos from the Event!
 
Mark Your Calendars! 
Next Up: NADCA's 2022 Fall Technical Conference is September 15-17 at the Hard Rock Hotel & Casino in Atlantic City, New Jersey; and the 34th Annual Meeting and Exposition will take place March 27-29, 2023 at the Hilton New Orleans Riverside in New Orleans, Louisiana!