Don't Miss NADCA's 33rd Annual Meeting & Exposition!
Posted

on

01/19/2022
Networking, camaraderie, and the chance to gain valuable insights, tips, and ideas that are guaranteed to help grow air duct cleaning businesses consistently rank up there as the top reasons for attending NADCA events. And this year's Annual Meeting & Exposition is guaranteed to deliver all that and more!
NADCA's 33rd Annual Meeting & Exposition will take place March 20-22, 2022 at the Gaylord Rockies Resort & Convention Center in Aurora, Colorado, just outside of Denver. 
Join us as we embark on a journey of scientific exploration to validate HVAC system cleaning and its effect on the indoor environment before, during, and post-cleaning.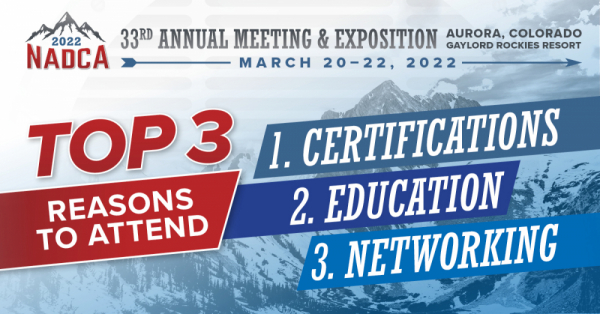 NADCA's Annual Meeting is always the place to be for connecting with leaders in the industry, exchanging ideas for business growth, and learning tips to pivot and adjust your focus when needed. If you're an air systems cleaning specialist, mold remediator, HVAC inspector — or anyone interested in the comprehensive field of HVAC system cleaning — it's an event you don't want to miss!
Two years into a pandemic that continues to rage on, there is so much to reflect on; like where the industry has been, where it's going, and what it means for NADCA members and their businesses. How will the increased focus on indoor air quality affect operations? What about the bottom line? Like every year, NADCA's Annual Meeting & Exposition will be packed to the brim with certification, education, and networking, but this year, the event will focus on turning the corner for what will eventually be a post-pandemic world.
This year's event features nine educational sessions led by influential and inspiring presenters, with four of those sessions qualifying for Continuing Education Credits (CECs). Plus, the event provides one of the most convenient ways to get certified — it's a one-stop-shop for certification, training and exams, with a full day dedicated to the pre-conference training courses for Air Systems Cleaning Specialist (ASCS) and Certified Ventilation Inspector (CVI) certifications, and the opportunity to sit for the ASCS or CVI exam right on-site the following day.
The event will officially kick off Sunday evening with a welcome reception, and the general business meeting will take place Monday morning prior to the Keynote Address.
In Monday's keynote address, business owner and entrepreneur, Susan Frew, will talk about 'Rockstar Recruiting for a New Generation.' Later that afternoon, session topics include 'Financial Implications of Your Safety Program' (CEC session), 'Understanding Xactimate & How to Increase Your Bottom Line,' a panel discussion about 'Tapping into the Commercial Market,' and one of our most popular speakers, Dr. Mark Hernandez, will present a CEC session on 'Indoor Transmission of Airborne and Surfaceborne Diseases.'
Tuesday's sessions include 'Air Duct Cleaning after Fire Restoration' (CEC session), 'Understanding Your Numbers and the Cost of Doing Business,' 'Scaling Up: Creating Growth Opportunities for Your Business,' a panel discussion on 'Creating a Culture of Excellent Customer Service,' and 'Quantifying Coil Cleaning' (CEC session).
Did we mention that the Exhibit Hall is BACK?! Don't miss your chance for an up-close-and-personal experience with new technology, cleaning products and techniques, tools for growing your business, and more in our always-popular exhibit hall!
As always, the event will wrap with the President's Reception and Member Party in honor of NADCA's Hall of Fame inductees!
CLICK HERE to see the full program, including descriptions of sessions and speaker bios.
Still need convincing? Watch this quick video to learn about all the things you'll miss if you don't attend!
Make plans to attend now! Register for NADCA's Annual Meeting & Exposition by February 1st to take advantage of our early bird rate! And don't forget that NADCA members get significant discounts on registration for ALL NADCA events.
Due to unpredictable and potential COVID-19 restrictions, number of attendees allowed may be limited. By registering for the conference, attendees agree to adhere to all COVID-19 prevention protocols which may include, but are not limited to, mask-wearing for all indoor events, temperature checks, pre-conference screenings, social distancing requirements, sanctuary seating and zone registration assignments.