Why Fall is the Best Time for Air Duct Cleaning
Posted

on

10/03/2019
Autumn is officially upon us!  The change of season not only brings cooler weather, pumpkin carving, and football, but it also brings a whole new list of home maintenance to-dos for homeowners. There are leaves to rake, gutters to clean, and chimneys to sweep. If you've had air duct cleaning on your to-do list for some time now, here are just a few reasons why the fall season is the perfect time of year to get your home's air ducts cleaned.
1.) Improved indoor air quality
According to the EPA, the average person spends about 90% of their time indoors, and with dropping temperatures right around the corner, we'll soon be huddled inside under blankets with the windows closed and the heat or fireplace on. Over time and use of these appliances, dust, soot, dander, and other indoor air pollutants will accumulate in our home's air ducts and then be recirculated throughout the home every time the furnace kicks on. By getting your air ducts cleaned in the fall, you're taking the steps to ensure that you and your family are not breathing in those pollutants all winter. This is especially important with the flu season on the horizon.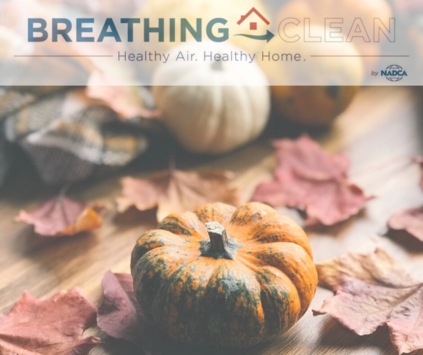 2.) Increased energy efficiency & savings
When your air ducts are dirty, your HVAC system must work harder to maintain the desired temperature setting of your thermostat. By having your home's air ducts cleaned in the fall, you are preparing your system before you start using it full-time in winter. As a result, you can benefit from increased energy efficiency and save more on your electricity bill.
3.) Reduce allergy symptoms
Summer may be over but that doesn't mean the end of your allergy symptoms. Allergy sufferers should take extra precautions to avoid a spike in their symptoms during the autumn season. Less sunlight and colder weather create favorable conditions for mold and fungi growth, especially on decaying plants and piles of leaves, which can potentially enter homes through the air ducts and cause various health issues. Luckily, air duct cleaning can uncover the presence of mold as well as other potential hazards within your system. 
How to Get Started
Interested in having your air ducts cleaned this fall? To get the job done right, hire a company that is a member of the National Air Duct Cleaners Association (NADCA). NADCA members have advanced training and follow a higher standard in cleaning and customer service. Use NADCA's Find a Professional Directory to locate a reputable air duct cleaning company in your area.