Water Damage and the Air Quality of Your Home
Posted

on

09/12/2018
When your home has been hit with water damage, you may think indoor air quality is the least of your problems. Compared to the damage you're seeing with your own eyes, indoor air quality is a low priority, right? But, the truth is you could be breathing in invisible hazards to your health.
What is water damage?
Water damage describes a large number of possible losses caused by water intruding where it will enable attack of a material or system by destructive processes such as rotting wood, rusting of steel and many others.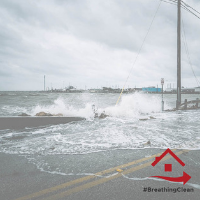 The damage may start off slow or minor or come all at once. Regardless of how fast it occurs, water damage is a major contributor to loss of property.
Examples include:
Leaking: Pipes or appliances leaking are some of the more moderate causes of water damage and can be fairly easy to detect and fix based on the location. While kitchen sink or water heater leaks contain clean water, plumbing leaks carry sewage with them and an increased risk of spreading bacteria, viruses, and mold.
Condensation: When the humidity of the home is too high, condensation can begin to form on any surface. In many cases, water damage from condensation can be hard to detect, hiding out of sight in your windows, ceiling tiles and within the walls. Homeowners should be on the lookout for excess condensation on windows and a musty odor.
Flooding: Flooding caused by natural disasters is one of the most dangerous forms of water damage, bringing with them substances from the outdoors, such as raw sewage, trash, and other microorganisms. Due to the large volume of water, floods cannot be cleaned up fast enough, and the standing water becomes a breeding ground for bacteria, viruses, and mold.
Impact your health:
Your air ducts act as the lungs of your home, moving air, and toxic substances, from one room to the next. When inhaled over an extended period of time, mold can cause congestion and throat irritation, as well as coughing and wheezing in otherwise healthy individuals. For others, symptoms can be much worse.
Approximately 25% of people are allergic to mold, and about 235 million people live with varying degrees of asthma, with children being particularly vulnerable. Exposure to mold for these individuals, as well as anyone with additional respiratory conditions, can lead to asthma attacks, pneumonia, and infections. The increased moisture and humidity in your home from water damage also allows for common allergens, such as pollen and dust mites, to increase and fill the air.
What you can do:
When dealing with water damage in your home, your first step should be to dry the area as quickly as possible, ideally within 24 to 48 hours. Next, focus on cleaning up the area to remove any remaining contaminants, this includes throwing away affected furniture and carpets. Finally, address the source of the problem by fixing leaky pipes, replacing broken appliances or installing a dehumidifier.
NADCA recommends calling a certified professional when water damage occurs to inspect for potentially dangerous situations around the home and in your air handling systems. Prevention is the best medicine when it comes to avoiding mold. It is a good idea to schedule periodic air duct inspections and cleanings to ensure mold isn't hiding in your home's ductwork.