Tips for Avoiding Mold in Your Home
Posted

on

09/07/2018
It's National Mold Awareness Month, which means now is the perfect time to get a head start on removing that troublesome fungus from your home.Mold thrives in dark damp places, such as your bathroom, basement, and attic, but it can also grow in your ductwork and spread around your home when you turn on the heat or air conditioning. Because mold is often unseen, you may not be aware of its presence until after you become sick. Thankfully, there are a few steps you can take to avoid mold growth in your home:
1) Identify the problem areas in your home.
Finding the places in your home that attract mold is a crucial part of preventing future mold outbreaks. These places can be easy to find, such as puddles in your basement around your washer and dryer or water heater, or in the attic from a leaky roof caused by harsh rain. Some places are harder to find, such as condensation build-up around your windows, old spills on the carpet, and your shower curtain. Your home's sheetrock, insulation, and ductwork are some of the hardest to find and require professional assistance to fix.
2) Dry wet areas and clean up mold immediately.
If problem areas have already been affected by water damage or mold, it is necessary to clean and dry them within 24 to 48 hours to avoid mold. If absorbent materials, such as carpets, furniture, and ceiling tiles can't be completely dried or are found too late, they may need to be replaced to prevent mold from spreading to other areas of the home. Harder surfaces such as wood flooring, bath tile, and kitchen counters can be cleaned with water and detergent and dried completely with towels. Be sure to thoroughly wash and dry the towels after.
3) Prevent moisture and condensation by using mold-resistant products.
Once problem areas have been identified and cleaned, it is important to take steps to keep mold away by equipping your home with mold-resistant products. Condensation can be reduced on cold surfaces like windows, piping, and floors by adding insulation. Old drywall and sheetrock can be replaced with the mold-resistant versions, and mold-inhibiting paint can be used on floors and walls. Do not install carpets in areas with frequent leaks and flooding, such as the basement or laundry room and over concrete floors.
4) Improve your home's air flow and monitor humidity levels.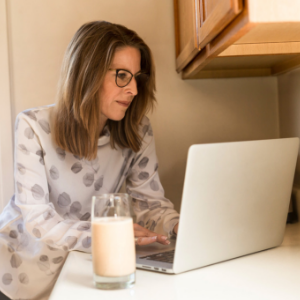 Finally, maintaining proper airflow throughout your home will greatly increase your chances of avoiding mold problems. Using dehumidifiers will help remove excess moisture from the air and prevent it from clinging to surfaces around your home. The EPA recommends leaving your indoor air humidity between 30 to 60 percent. Running your bathroom's fan while showering also helps improve airflow and limits the amount of built-up moisture. It is also recommended to regularly change air filters and have air ducts cleaned to increase air circulation from room to room.
5) When in doubt seek professional help.
Hire a certified contractor to inspect potentially damaged air handling systems or when mold is present. NADCA holds its member companies to the highest standards in the industry for air duct cleaning. When you hire a NADCA-certified contractor you can trust the job will get done right using proper cleaning methods. To find a NADCA member company in your area visit NADCA.com.