How to Determine the Best Style of Marketing for Your Business
Posted

on

03/14/2023
Marketing is essential for growing any business, yet it's one of the hardest things to get right. With so many options and styles of marketing, it can be difficult to know where to start, or what will be most effective for your business. Let's break down the steps that will help determine what style of marketing is right for your business.
1.  Figure Out your Business Goals
Before you can choose the right style of marketing for your business, you need to figure out your business goals. Consider what you want to achieve with your marketing strategy. Are you trying to increase traffic to your website? Are you interested in increasing your brand awareness? Are you focusing more on generating business leads? Once you determine your goals, you can start to look at different marketing strategies and decide which ones are a good fit for your business.
If you're unsure what your business goals should be, try thinking about what you want to achieve in the short- and long-term. For instance, you might want to focus on generating leads or increasing website traffic in the short-term. For the long-term, you may want to grow your brand awareness or build customer loyalty. Once you understand your goals, you can start looking at different marketing strategies to decide which ones will help you achieve your goals.
2. Study your Competitors
In order to determine what style of marketing is right for your business, it's probably helpful to study your competitors. Take a look at their marketing materials, and see what they are doing that is working well. Also, pay attention to any negative feedback they may be receiving from customers, and make sure you avoid making the same mistakes. Once you have a good understanding of what your competitors are doing, you can then start to develop a marketing strategy that will set your business apart from the rest.
3. Consider Your Target Audience
Your target audience consists of the people who you think are most likely to purchase your product or service. When considering your target audience, it's essential to consider their needs and what they want to see from your business. For example, if you're selling products for new parents, you'd want to target ads and content that speaks to the needs of new parents. If you're targeting college students, on the other hand, you'd want to focus on content that appeals to their interests and needs.
For a duct cleaning business, your target audience could be new parents, homeowners with pets, people who have recently moved or renovated their home. If you're business is more focused on commercial customers, your target audience might be facility managers, property managers, etc.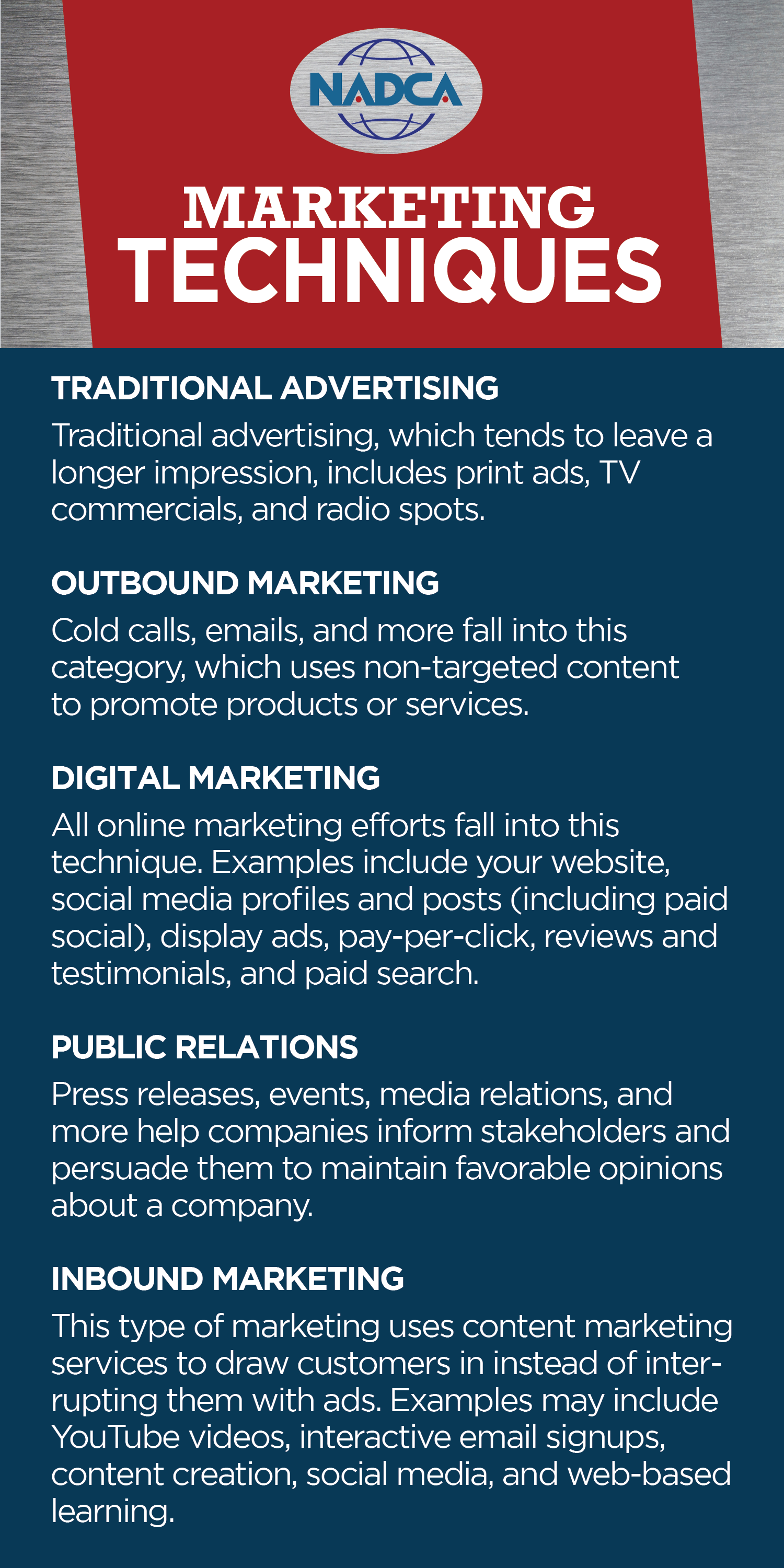 Once you've determined your target audience, you can start thinking about what marketing style is right for your business. Research different marketing techniques and consider which would work best for reaching your target audience. You may need to experiment with a few different techniques before finding what works well for your business.
4. Set your Marketing Budget
When it comes to marketing, it's easy to get overwhelmed and not know where to start. Budgeting is a critical part of the planning process since it will essentially tell you what options are available to you in your budget.
Each form of marketing offers various benefits. Trying various methods can give you deeper insight into which works best for your business.
5. Evaluate your Results
Once you've tried out a few different marketing strategies, it's time to evaluate the results. Look at your sales figures and compare them to what you were doing before. If you see an uptick in business, then you know you're on the right track.
It's also important to look at your customers' feedback. Are they happy with the new marketing campaign? Do they feel like they're being bombarded with too many ads? Be sure to take their feedback into account as you move forward.
Finally, don't be afraid to make changes if something isn't working. Trying new things is part of marketing, so don't be afraid to experiment. You'll only find what works best for your business by trying out different approaches and seeing what sticks.
6. Adjust as Needed
Don't expect overnight results. Be patient and give your marketing time to work. Track your results and make adjustments as needed, but don't give up too soon. A successful marketing campaign can take months or even years to develop, so be patient and keep at it.
As your business grows, so does your customer base. As your customer base grows, you may need to adjust your marketing style to better appeal to them. For example, if you are targeting a younger audience, you may need to use more modern methods of marketing, such as social media or online advertising.
If you are targeting a more mature audience, traditional methods such as print ads or direct mail may be more effective. The trick is knowing your audience and what methods of marketing they are most likely to respond to.
There is no one-size-fits-all for which style of marketing is right for your business. The best way to figure out which marketing strategy is best for you is to experiment with a few different techniques. 
With so many marketing options available, it's important to find the approach that feels most natural for you and your company. What matters most is that you're able to connect with your target audience and deliver the results you're looking for.