Cleaning Open Air Plenums
Posted

on

02/15/2022
Air duct cleaners will inevitably encounter plenum spaces — also called open air plenums or air voids — at some point in their career. These open spaces, designed to facilitate air transfer for HVAC systems, may exist between a structural ceiling and dropped ceiling, under a raised floor, or between walls, and can be incredibly dangerous for technicians to clean.
About Plenum Spaces
While plenum spaces are difficult spaces to define, explain, and clean, be careful not to confuse open air plenums with plenum boxes, which connect to the supply or return ducts leading to or from an air handling unit.
"This is a very tough topic," said Paul Keller, Jr., ASCS, vice president of Service-Tech Corporation Florida and NADCA board member. "These are open spaces within spaces that are overlooked, because the 'typical ductwork materials' like ductboard and flex duct may not be present. An open air plenum isn't necessarily tied into the HVAC, but its sole purpose is designed for airflow back to the air handling unit."
Air plenums are found in both commercial and residential settings, and in different configurations. One of the most common in a commercial setting is in a building with a drop ceiling. Between the structural ceiling/roof and the drop ceiling tiles is the open air plenum, where supply ductwork is also located.
"You'll see the same kind of return grills that you are used to seeing up there on the drop ceiling, but there's no ductwork attached to the return grill," Keller said. "Above the ceiling, all that air is funneled all the way back to the air handling unit. If you don't see return grills, there may also be slotted light fixtures that are acting as a return grill."
In a residential setting, open air plenums may be found in a closet with no return ductwork attached to the air handling unit; instead, it is pulling air from a louvered closet or pass-through/transfer return grill back to the air handling unit.
"The air goes through the unit up into the attic, or up to the floor from a basement, and finally from the supply ductwork, it is transferred into the conditioned space. The conditioned air then returns back to the open air plenum, and back to the unit," Keller said. Pressurized air plenums are often used in clean room designs to control airflow, pumping air through the plenum space, through the filters and into the clean room (see figure 1 below).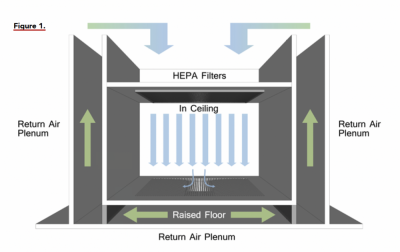 However, contrary to the name and concept, not all air plenums are voids containing nothing but air. Some of them contain a multitude of things like:
Wires
Conduits
Ceiling girders
Ceiling tiles
Concrete
Pipes
Lighting fixtures
Lead
Asbestos
Ducts
Keller compares the cleanliness of the materials found in an air plenum to what you can find in an everyday junkyard and heaving it up into a ceiling. "There's quite a lot of dust, dirt and debris that accumulate just because it's normally an unfiltered area." Keller said. "Also, the hazards encountered can range across a broad spectrum."
Keller stresses that this accumulation of dust, dirt and debris in an air plenum causes indoor air quality issues that need to be addressed beyond a typical cleaning. In addition, they create an environment that can lead to microbial-control issues and carcinogenic issues.
"The amount of air pollution within an open air plenum can drastically affect mold and help it grow," said Keller.
The type of environment technicians encounter should dictate the methodology of the cleaning performed.
Rethinking Your Methodology When Cleaning Air Plenums
Because cleaning open air plenums requires getting into the structure of a building more so than typical cleaning jobs, technicians must be aware of hazards that require preparation, like asbestos or lead exposure. In addition, the potential for cross-contamination is greater.
"You can turn off an air handler to clean on one side of a building," Keller said, "but on the opposite side of the building, that air handler is running, and they are using air from the same plenum, but you may not realize it because the air handling units aren't close together."
Keller advises that technicians scrutinize their methodologies prior to cleaning an air plenum to determine where changes may be warranted.
"Everyone feels that 'Oh, my method is the best,'" Keller said. "However, your method may not be right for cleaning an open air plenum, whether it is a return plenum, a supply plenum, or sub-floor." An evaluation of the environment and evaluation of the potential cleaning approach helps to ensure safety and better outcomes for everyone.
Cleaning Techniques
ACR, The NADCA Standard, specifies how to approach cleaning certain types of material, but the standard does not address open air plenums specifically. "However, NADCA has a good building block of how to start the cleaning of open air plenums," Keller said.
At the start of a job cleaning open air plenums, Keller says that a technician must determine what it serves, who it can impact, and the type of materials that are within the open air plenum. Working in an open air plenum is usually a very unsafe work environment, especially if that work is taking place above a ceiling. Keller recommends a few options when cleaning air plenum, like contact vacuuming.
"However, negative air, compressed air, and HEPA filtration are all suitable means of cleaning depending on the material that you're cleaning in the air plenum," Keller said.
Technicians may need additional training to enter specific areas, including:
Confined space training
Respirator training
Fall protection training
Proper use of personal protective equipment (PPE)
Rig to rescue training
Air monitoring
Lockout/tagout (LOTO)
Following the cleaning, a best practice would be to have a third party take some particulate measurements to determine the cleanliness levels of the air.
This article originally appeared in the May/June 2021 edition of DucTales.
New Ways to Earn CECs:
NADCA offers members an easy way to earn continuing education credits (CECs). Just read a designated article in DucTales magazine and complete an online quiz. 
HINT: The article above first appeared in DucTales, and is worth one (1) CEC!!
Here's how to take advantage of this members-only benefit:
1. Read the article above.
2. Visit nadca.com/education/ductales-quizzes and log in to purchase and complete the CEC quiz.
3. Pass the CEC quiz and earn your credit.
This exclusive benefit is only available to NADCA members.